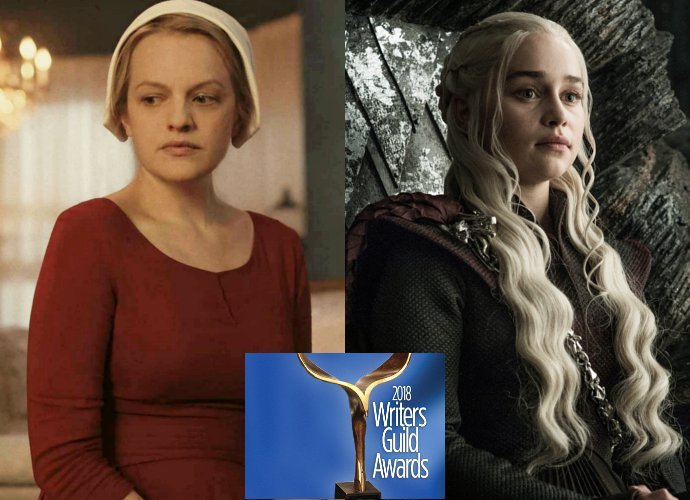 I ended
'The Handmaid's Tale' leads speculative fiction on television at the 2018 Golden Globe Awards
by writing "I'll see if I have the time and energy for the WGA Awards tomorrow."  It seems I have, so here goes.
As I wrote when I reported
last year's speculative fiction nominees at the Writers Guild Awards
, "there appears to be critical and popular consensus both on which speculative fiction shows are best, but also that they are among the best shows on television right now."  Replace popular with professional, as
the People's Choice Awards will effectively skip this year
, and the same is happening with this year's speculative fiction series and miniseries now that the WGA has weighed in.  The drama series are "Game of Thrones," "The Handmaid's Tale," and "Stranger Things," which have shown up on four nomination or award lists so far this month (five in the case of "Game of Thrones" because of its soundtrack nomination at the Grammys.  The miniseries is "American Horror Story: Cult," although the Hollywood Foreign Press Association likes "Twin Peaks" better.  Expect this to be true all the way to the Emmy Awards next year, as
there will be second season of "The Handmaid's Tale" airing within the Emmy eligibility window
.  However, the Emmy Awards should have a fourth speculative fiction drama to recognize, as
the second season of "Westworld" will air in the spring as well
.  The current Golden Age of speculative fiction on television will continue for at least another year!
In addition to "Game of Thrones," "The Handmaid's Tale," and "Stranger Things" being nominated for Drama Series, "The Handmaid's Tale" earned a nomination for New Series.  I expect the Hulu adaptation of Margaret Atwood's dystopian novel to be the favorite to win both.  "American Horror Story: Cult" is the sole speculative fiction in Long Form Original.  Short Form New Media Adapted has episodes of speculative fiction series as three of its four nominees, two episodes of "Marvel's Agents of S.H.I.E.L.D.: Slingshot" and one of "The Walking Dead: Red Machete." 
Once
again
, the short form series in "The Walking Dead" universe get more love than the main shows.  Speaking of missing love, an episode of "The Leftovers" earned a nomination for Episodic Drama.  That's a series that I thought was neglected during its three-season run.  Competing against it is "The OA."
Three shows, "Bob's Burgers," "BoJack Horseman," and "The Simpsons," occupy all five slots in Animated Series, as "BoJack Horseman" and "The Simpsons" have two episodes each nominated.  Two shows with fantastic elements, "Just Add Magic" and "The Magical Wand Chase: A Sesame Street Special," earned nominations for Children's Episodic and Specials.
Science and technology appear in the nominations of "Silicon Valley" for Comedy Series and "The Immortal Life of Henrietta Lacks" for Long Form Adapted.
Follow over the jump for all the nominees in the above categories plus my opinions about their chances.